We have officially started selling Hummer H1's that have gone through our extensive maintenance and modification program to be known as official Mod Mafia Hummers.  We have seen too many people pay way too much for unmaintained or poorly optioned or equipped trucks.  
https://www.autotrader.com/cars-for-sale/vehicledetails.xhtml?listingId=536165750&zip=77354&referrer=%2Fcars-for-sale%2Fsearchresults.xhtml%3Fzip%3D77354%26startYear%3D1997%26sortBy%3DderivedpriceDESC%26incremental%3Dall%26firstRecord%3D0%26marketExtension%3Don%26endYear%3D2000%26modelCodeList%3DHUMMER%26makeCodeList%3DAMGEN%26searchRadius%3D0&startYear=1997&numRecords=25&firstRecord=0&endYear=2000&modelCodeList=HUMMER&makeCodeList=AMGEN&searchRadius=0&makeCode1=AMGEN&modelCode1=HUMMER&clickType=listing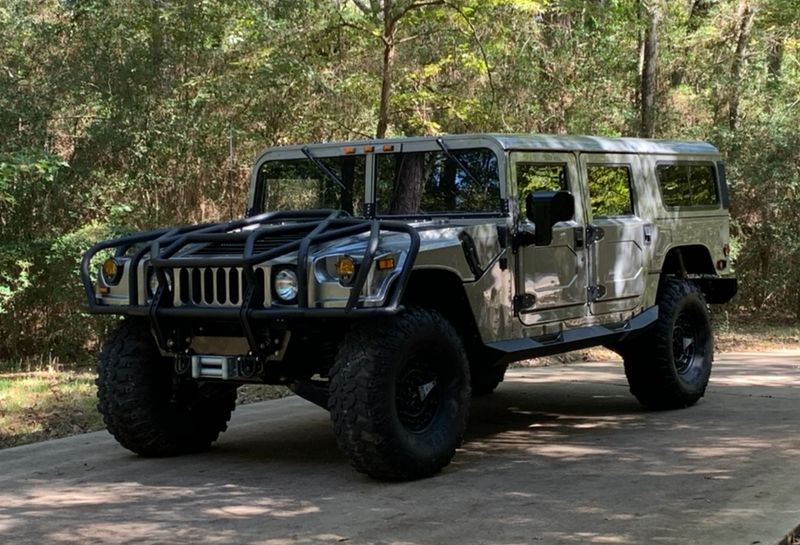 Mod Mafia is proud to present this 1998 Hummer Wagon. Meticulous restoration on this Wagon includes repaint inside and out, tons of powder-coating to freshen up the look, and over $100k in receipts!

This truck drives, steers and brakes extremely well! Under 4000 miles on the restoration. Perfect truck for someone to finish the little details or drive as is!

- P400 6.5TD Engine Block
- Improved Turbo, intercooler, and stack design
- Mod Mafia 12" Big Brake Kit
- Centered Front Differential
- ARB Air locker front and rear differentials
- Custom Interior and Stereo System
- Working CTIS system
- (8) ball joints
- idler and pitman
- all tierods
- 37" Swamper tires
- Rocker Panel Protection
- 12k Warn Winch
- Factor 55 Ultrahook
- Billet interior kit
- Fresh rebuilt OEM starter.
- Recent Maintenance
We can also do complete custom builds.
Also we have seen people settle for a truck they like but is not exactly what they want.  You can also contact us to help you find a Hummer H1.
We are looking for Hummers with the below criteria:
- 1997.5 through 2006 alpha
- Original CTIS trucks
- Under 100k miles
Check us out on Instagram or Facebook at modmafiallc
Please contact us if you have any questions at sales@modmafia.com.  We will have a lot more information on this soon.

We do not sell vehicles that we don't have in our possession.